Original Post Created on 31/03/2013 12:57
There are four main teachers taking lessons here and I thought you may like to know a bit more about them.
Sonja Appel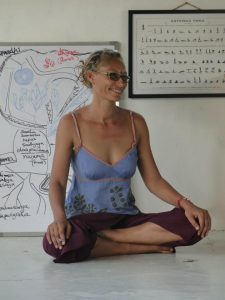 Sonja is the founder of Sushumna yoga and has done a terrific job of pulling together a really intensive teacher training programme. She is passionate about yoga and the benefits for your health and well-being and this passion shines through everything she does, even though she can be a little fierce at times. She really wants you to get the most from your experience, including the vegan diet, green fasting and silence days. I am pleased to have had the opportunity to try it all, even though I am unlikely to keep up veganism when I return home. As a yoga teacher she is excellent and I will always hear her instructions in my head when 'jumping back, jumping forward' in my Mysore Self Practice and this will always make me smile with fond memories (although they do not feel so fond at 6am). I think she is to be commended for this course and the high standards of the teachers she has chosen to make it an excellent course. I would recommend it to anyone. More information about the school can be found
on
Nana Sun


The first time I met Nana was during our Mysore self practise as she slapped the back of my heels to correct my position in downward dog. A Russian Psychologist she has been a yoga practitioner for more than 9 years. She is a great teacher and teaches us Pranayama, Meditation, Hatha and Restorative. She has the ability to break down each pose little by little and make sure that you understand how each muscle works. She is also very experienced in breathing and meditative techniques having spent many years in China studying Zen. She is amazingly powerful spiritually and is without a doubt one of God's most beautiful people. I just adore her, in fact if I could smuggle her into my suitcase I would, just a little bit of Nana is enough to keep you going throughout the most difficult of days. An amazing teacher and we are all very lucky to have had her guidance during this course.
Dr Abhay Keste
Dr Abhay is a student of BKS Iyengar and amazing. He has built an enormous meccano style framework to act as a prop to enable us lesser humans to try and encourage our bodies into the postures and improve our alignment. He holds a doctorate in homeopathic medicine and surgery and has two yoga centres in Belagaum City. His anatomy classes are practically based and he works his way through the asanas, first theoretically and then practically, exploring in detail the impact they have on the body and how to improve our posture. According to Dr Abhay yoga only improves through practise, practise, practise and it is clear that he is a man who knows his subject inside and out. He has a genuine desire to help people improve their lives through the use of props and we have been most fortunate to have had the opportunity to have yet another teacher of extraordinary calibre. More information can be found
on shrikantyogacentre.org/dr-abhay-keste
Anand Semalty


Anand is the founder of Vedic Valley, an ashram style retreat just 10 minutes walk away. He is a very charismatic guru and teaches us philosophy and Ayurveda. He is full of passion and energy and his lessons are a mix of Sanskrit and English but amazingly we manage to get a good grasp on what he is telling us. At least we think we do, but I guess he does despair at our inability to keep many of the terms at the tip of our tongue. He manages to fill the lessons with humour, much of it self-depreciating, and does an excellent job giving these ancient text relevance to the modern day in a manner that cross-cuts all religions. I have no doubt at all that this style of teaching would be hard to find outside of India and it is the opportunity to experience this culture first hand that makes the travel halfway around the world worthwhile. More information ca be found on
The excellent teachers make the intensive training programme move along at a cracking pace and it is fair to say that there is never a dull moment, albeit there are many times when we really want to lie in Savasana and recuperate. A programme of this nature stands or falls on their quality and this course can stand tall.